Shizuoka

[Ended]Graduation calligraphy exhibition

(2021/01/14)

This is the calligraphy exhibition by some students belong the Faculty of Education.

January 19th (Tue) – February 10th (Wed) 9am – 5pm ; Monday – Friday
(Opening hour changed: January 19th from noon; February 10th until noon)
Shizuoka Main Library 4th floor, Gallery

To prevent the spread of the new coronavirus, please observe the following notes.
Please wear masks.
Please disinfect your hands and fingers.
Please keep the social distance.
We request visitors to refrain from entering the gallery.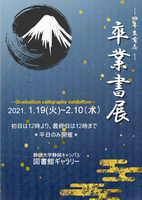 (*Click the image to open the PDF.)