Shizuoka

Forest x Tree x Furniture in Shizuoka Univ.

(2023/05/02)

This exhibition led by the ABP international students introduces the folktales and monsters of their own country.
By utilizing native pioneer species grown in Shizuoka University's Tenryu Experiment Forest for furniture and other products, the project will consider the creation of forests with diverse structures.

■May 11th (Thu) – May 31th (Wed) 9am – 5pm : Monday – Friday
■Shizuoka Main Library 4th floor, Gallery

To prevent the spread of COVID-19, please observe the following notes.
Please disinfect your hands and fingers.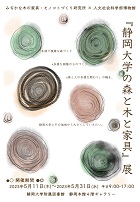 (*Click the image to open the PDF)